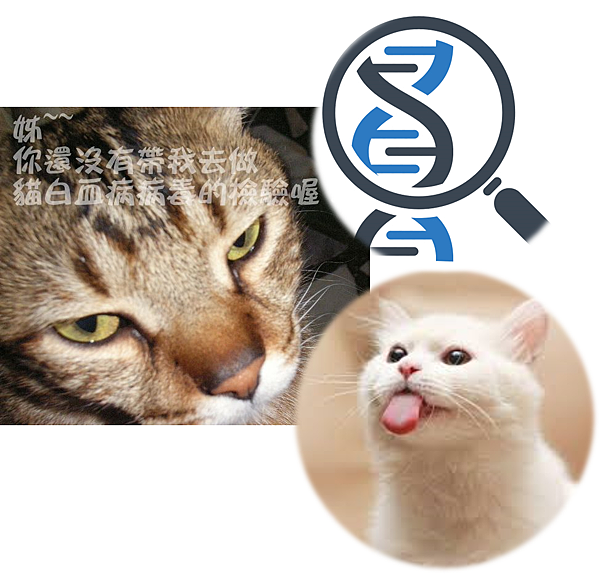 現在很多人都喜歡養寵物
像是汪星人或喵星人最為常見!!
在前面有討論過汪星人常見的癌症類型
那在這篇就來講講喵星人常見的癌症類型!!
首先來看看喵星人的十大死因!!
在圖A,顯示台北市於103年度有統計到的家貓十大死因 [1]!!
!!癌症居首!!
((雖然跟腎衰竭沒差多少,因與主題相關度不高就不進行討論囉!!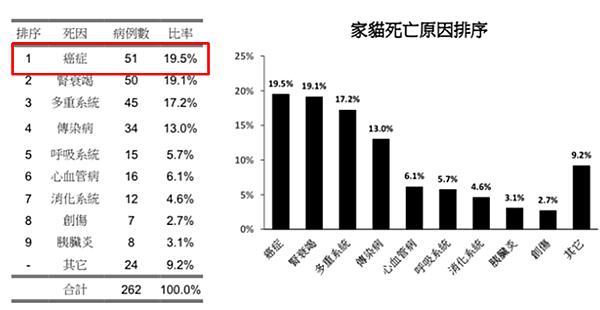 圖A. 家貓十大死因
---
那在貓類動物常見的癌症有哪些呢?
在圖B,根據3個不同參考數據統計發現淋巴癌、白血病、乳癌及皮膚癌最為常見 [2-4]。

圖B. 家貓常見癌症
---
!!接著!! 針對疾病的簡介,資料頗多,就不做其他介紹了!!
來簡單介紹一下這些癌症形成過程中,會產生哪些基因突變呢?
檢測TP53 (外顯子8)的密碼子編號為CGG - > TGG(精氨酸 - >色氨酸)的突變 [5-6]。
檢測出N-ras基因在外顯子 2發現基因突變 [7]。
貓之白血病主要由Feline Leukemia Virus (FeLV)病毒感染引發,是一種造血組織來源的進行性且惡性的疾病,近年來在台灣頗為常見,FeLV並不會傳染給其他動物,但在貓可能引發貧血、免疫抑制或是其他免疫相關的疾病並有十分高的致死率,其中最常見與免疫相關者為淋巴球增生性疾病 [8]。
因是病毒感染,所以可能會隨機插入任何基因而產生基因突變,目前很少相關文獻有詳細研究那些基因突變的部分。
知識補給站--白血病VS淋巴瘤
白血病:通常是指骨髓、外周血出現了惡性的血液腫瘤細胞的一種狀態,通常標準是骨髓或者外周血的惡性腫瘤細胞超過了20%,就稱之為白血病。這種惡性血液腫瘤細胞如果是淋巴細胞,那就叫淋巴細胞白血病;如果是粒細胞,就是粒細胞白血病;是NK細胞,就是NK細胞白血病。根據病程及分化程度,還可分為急性或者慢性。
淋巴瘤:是指淋巴細胞的惡性腫瘤,通常是以瘤塊(腫物、包塊)起病多見,這種形式,習慣上叫淋巴瘤;但實際上也可以以白血病的形式起病,就是淋巴細胞白血病。因此淋巴瘤廣義上包括淋巴細胞白血病 [9-10]。
檢測p21 WAF1和p27 Kip1基因中,並沒有任何基因突變的情形 [11]。
在8個貓乳癌腫瘤中,檢測到約87.5% (7/8)的cyclinA基因有擴增 (Amplification)的現象 [12]。
有檢測出TP53基因有基因缺失 (Deletion)的情形 [13, 14],導致錯義突變(Missense mutation)或移碼突變 (Frameshift mutation) [15]。
基因表達分析顯示KIT和LTA4H基因表達量增加,而GNAQ、GNA11、BRAF和RASSF1基因表達量減少 [16]。
---
總結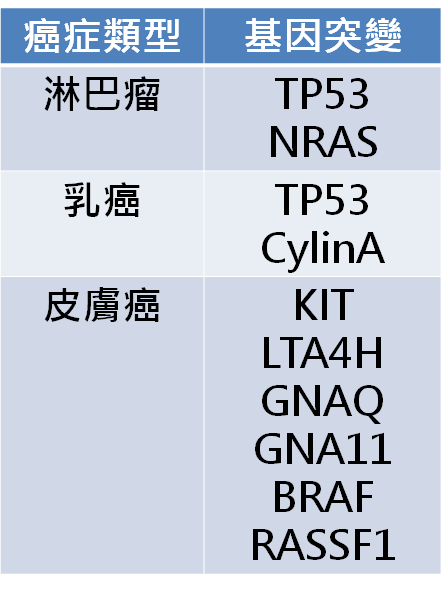 圖C. 整理—上述癌症的基因突變
可能是因為來自不同星球的生物吧!!
果然喵星人的癌症基因突變類型還是不一樣的啦!!
而且目前對喵星人的研究還是很少的唷!!
就需要更多科學家投入資源來進行喵星人的研究!!
或許這樣對外星生物會有更多了解!!哈哈!!
汪星人常見癌症可參考-- https://ppt.cc/fAaIux
參考資料:
C. RICHARD DORN. 1967. The Epidemiology of Cancer in Animals. CALIFORNIA MEDICINE.

Hiroyuki Mochizuki et al. 2012. Veterinary Immunology and Immunopathology. Comparison of the antitumor effects of an MDM2 inhibitor, nutlin-3, in feline lymphoma cell lines with or without p53 mutation. 147; 187–194.

Mayr B et al. 1993. Sequence of an exon of the feline p53 gene--mutation in a lymphosarcoma. Br Vet J. 149(4):387-90.

B. MAYR et al. 2002. N-ras Mutation in a Feline Lymphoma. Low Frequency of N-ras Mutations in a Series of Feline, Canine and Bovine Lymphomas. The Veterinary Journal. 163, 326-328.

白血病基金會。瞭解白血病、淋巴腫瘤和骨髓腫瘤。http://www.leukaemia.org.au/download.cfm?downloadfile=79488A10-C5D1-11E2-AE0800155D285803&typename=dmFile&fieldname=filename

Mayr B et al. 2000. Absence of p21 WAF1 and p27 kip1 gene mutations in various feline tumours. Vet Res Commun. 24(2):115-24.

Yuichi Murakami et al. 2000. Amplification of the cyclinA gene in canine and feline mammary tumors. J. Vet. Med. Sci. 62(7): 783-787.

B. MAYR et al. 1998. Polymorphisms in Feline Tumour Suppressor Gene p53. Mutations in an Osteosarcoma and a Mammary Carcinoma. The Vet. J. 155, 103-106.

B. MAYR et al. 1995. Sequence of an exon of tumour suppressor p53 gene--a comparative study in domestic animals: mutation in a feline solid mammary carcinoma. Br Vet J. 151(3):325-9.

B. MAYR et al. 2000.Presence of p53 mutations in feline neoplasms. Research in Veterinary Science. 68, 63–70.

J. G. Rushton et al. 2017. Mutation analysis and gene expression profiling of ocular melanomas in cats. Vet Comp Oncol. 15(4):1403-1416.