造成胰臟癌的危險因子 (Risk factor)有很多,其中與飲食習慣較相關者包含:抽菸、過量飲酒、咖啡、糖尿病、肥胖等。
目前已知肥胖會導致癌症可能和幾個原因相關: (1) 體內荷爾蒙分泌的影響; (2) 肥胖產生體內發炎反應; (3) 胰島素及生長因子分泌促使癌細胞生長(圖一)。其中,肥胖造成胰臟產生癌化的機制還未詳細被科學家們證實,但目前推測較可能的原因與體內發炎因子的產生有關,由於肥胖會造成體內內臟器官周圍形成大量脂肪細胞浸潤,這些脂肪細胞會分泌各種脂肪細胞激素 (Adipokine)、細胞激素 (Cytokine)及趨化因子 (Chemokine)而產生慢性發炎的狀態,進而促使胰臟癌的形成[1, 2]。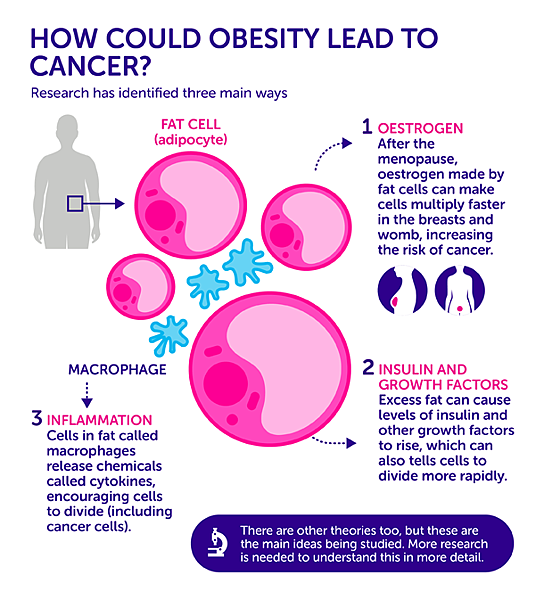 圖一、肥胖引起癌症的可能原因
研究結果發現,餵食倉鼠高脂肪飲食會引發高血脂 (Hyperlipidemia)並增加胰臟內脂肪浸潤 (Intrapancreatic fatty infiltration),再利用化學藥劑N-nitrosobis(2-oxopropyl)amine (BOP)誘導倉鼠腺癌的實驗中,餵食高脂肪飲食鼠產生胰腺發育不良 (Pancreatic dysplasia)及胰臟腺癌 (Pancreatic adenocarcinoma)的機率各別為78 %及67 %;而餵食一般飲食的組別產生腺發育不良及胰臟腺癌的機率各別是25 %及0 %,代表肥胖確實會增加胰臟癌發生的機率。
進一步實驗結果發現,倉鼠高脂肪飲食會增加胰臟部位產生脂肪細胞激素 (Adipokine)、發炎因子 (Inflammatory factor)、胰島素 (Insulin)、類胰島素生長因子-1 (Insulin-like growth factor 1; IGF-1)、COX-2、CyclinD1、IL-1β等,進而幫助發炎的狀態產生[3]。
另一個實驗室的研究利用基因轉殖小鼠模式,同樣餵食高脂肪飲食,持續餵食30天,結果發現老鼠體內KRAS活性增加,同時提高COX-2的表達及ERK的活化,進一步產生慢性胰臟發炎,再者,這些發炎造成胰臟上皮內新生腫瘤 (Pancreatic Intraepithelial Neoplasia; PanIN)的機率是餵食一般飲食老鼠的六倍[3]。
這些實驗結果證實,肥胖會促進胰臟部位發炎反應產生,造成致癌基因KRAS的活化,並促進下游COX-2及ERK訊息傳遞路徑的開啟,進而產生胰臟上皮內新生腫瘤,促使胰臟癌的形成[4] (圖二)。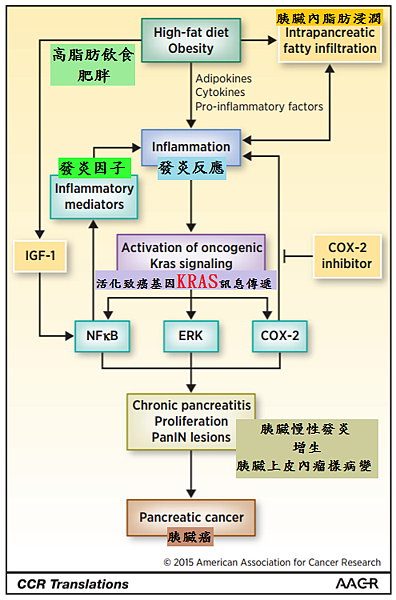 圖二、KRAS在肥胖產生胰臟癌的過程中扮演的角色
現在人工作繁忙,生活壓力大,為了求方便快速,大部分飲食習慣都是以外食為主,再加上甜食飲料推陳出新,精緻、可愛、可口又方便攜帶,但往往又缺乏適度運動,導致多餘的熱量無法適度消耗而囤積在體內,造成體重增加而引發肥胖。然而,從研究結果可以發現肥胖會提高胰臟癌發生機率,因此控制自己的飲食及體重是重要的,擁有健康的身體人人有責。
Reference:
Wang H, Maitra A and Wang H. Obesity, Intrapancreatic Fatty Infiltration, and Pancreatic Cancer. Clin cancer res

21(15):3369-71; 2015.

Cancer research-UK. http://scienceblog.cancerresearchuk.org/

Hori M, Kitahashi T, Imai T, et al. Enhancement of carcinogenesis and fatty infiltration in the pancreas in N-nitrosobis(2-oxopropyl)amine-treated hamsters by high-fat diet. Pancreas 40(8):1234-40; 2011.
Philip B, Roland CL, Daniluk J, et al. A high-fat diet activates oncogenic Kras and COX2 to induce development of pancreatic ductal adenocarcinoma in mice. Gastroenterology 145(6):1449-58; 2013.
Edited by Perfect叔叔