Moxibustion Reduces Ovarian Granulosa Cell Apoptosis Associated with Perimenopause in a Natural Aging Rat Model.
Evid Based Complement Alternat Med. 2015;2015:742914.
Shi XL, Zhao C, Yang S, Hu XY, Liu SM.

更年期在女性老化的過程當中扮演重要的時期,主要發生在45-55歲之間,主要的原因為卵巢在這階段慢慢缺少接受腦下垂體分泌的卵泡(ovarian follicle),而導致雌雄激素與黃體素(progesterone)減少,進而影響子宮內膜週期,在這時期約有兩成的女性會有較明顯的症狀,包含:熱潮紅、盜汗、心悸、注意力不集中以及情緒不穩定等。
卵泡(濾泡, follicular)生長及發育的過程中,因為顆粒細胞(granulosa cells, GCs)的細胞凋亡,導致超過99%的卵泡進行退化的過程[1]。
Forkhead box O (FOXO)家族蛋白會調控細胞凋亡、細胞生長、粒線體代謝相關基因的表達[2],而其中FOXO1被證實會影響濾泡促進激素(FSH)及黃體素(LH)的表現量,並進一步與卵巢調控因子作用,而影響GCs的增生、分化及細胞凋亡[3]。
艾灸在中國傳統治療中透過焚燒艾草(Artemisia vulgaris),且非直接侵入性的給予穴位刺激,達到緩解的作用,而常用的適應症包含:關節炎(arthritis)、腸胃功能相關疾病(gastrointestinal disorders), 婦科相關疾病(gynecological complaints)以及緩解疼痛,然而在艾灸在臨床的研究卻不多[4]。
實驗目的:在此篇期刊中探討艾灸對於卵巢GCs細胞之細胞凋亡影響以及相關機制。首先將老化大鼠分成控制組(control)、艾灸組(mild warm moxibustion, MWM)、外加雌激素組(conjugated equine estrogen, CEE)以及年輕大鼠對照組(young)。從結果中證實,艾灸組能與外加雌激素組別一樣,能夠抑制GCs細胞凋亡,主要透過FOXO1及Janus Kinase (JAK)/ Signal Transducer and Activator of Transcription (STAT) (JAK2/STAT3)的訊息傳遞,來調解更年期賀爾蒙的不平衡,進而緩解更年期的症狀。
圖一、免疫組織染色。艾灸能夠降低大鼠卵巢組織細胞凋亡之相關蛋白(Caspase-3)表達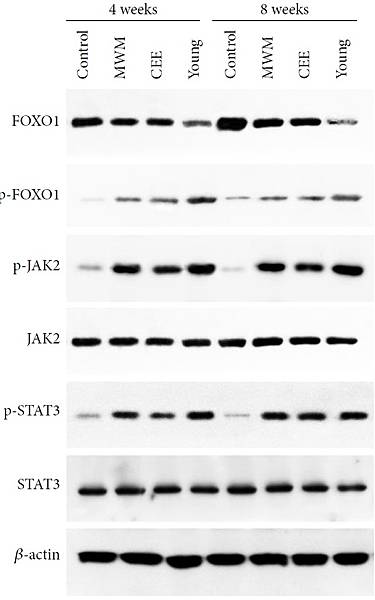 圖二、西方墨點法。艾灸能夠活化FOXO1、JAK2及STAT3相關蛋白的表達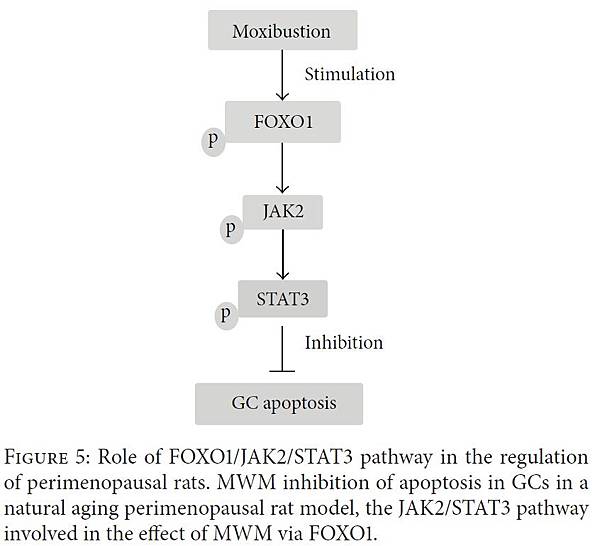 圖三、艾灸透過JAK2/STAT3訊息路徑抑制GCs細胞凋亡
因此,在平常的日常保健,能夠透過艾灸來調適解年期過程中不適的症狀,當然同時也要有相關醫事人員指示、教導以及評估,才能有效幫助身體,讓老化的身體更健康、更有活力。
Edited by A-Kai
參考資料:
1. J.-Y. Jiang, C. K. M. Cheung, Y. Wang, and B. K. Tsang. Frontiers in Bioscience, vol. 8, pp. d222–d237, 2003.
2. A. M. J. Sanchez, R. B. Candau, and H. Bernardi. Cellular and Molecular Life Sciences, vol. 71, no. 9, pp. 1657–1671, 2014.
3. M. Shen, Z. Liu, B. Li et al. Cell Death and Disease, vol. 5, no. 10, article e1475, 2014.
4. S. Y. Kim, Y. Chae, S. M. Lee, H. Lee, and H. J. Park. Evidence-Based Complementary and Alternative Medicine, vol. 2011, Article ID 306515, 19 pages, 2011.