RAS在細胞中一般都扮演什麼樣的角色呢?正常情況下,RAS活化後可以藉由下游路徑的開啟,進而影響細胞產生各種生理功能,例如:細胞生長 (Cell growth)、細胞增生 (Cell proliferation)、存活 (Survival)、分化 (Differentiation)、侵襲 (Invasion)、細胞凋亡 (Apoptosis)等[1] (圖一)。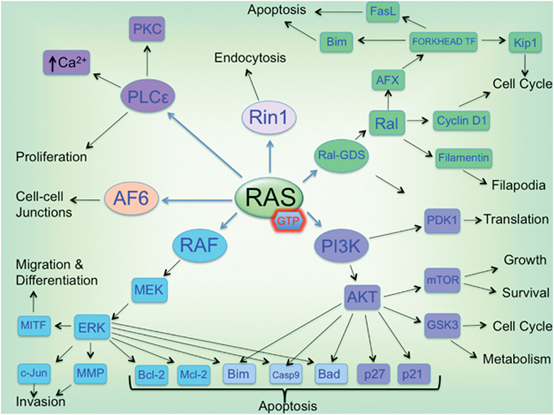 圖一、RAS參與不同的細胞生理功能之調節
為什麼RAS又能幫助細胞生長又能造成細胞死亡呢?而在細胞凋亡中,又可能促細胞凋亡 (Pro-apoptosis),也可能抑制細胞凋亡 (Anti-apoptosis)呢?聽起來很矛盾,但其實不然,這是因為當細胞經由膜上接受器 (Receptor)接收到外來刺激之後,會開啟下游不同的訊息傳遞路徑,而RAS位於細胞膜內側的位置,能夠在傳遞路徑的上游就接收到訊息,因此可以進一步影響接下來其他不同路徑的啟動,進而造成不同的生理功能反應。
RAS下游同時存在多種促進細胞凋亡及抑制細胞凋亡的機制,兩種機制之間的平衡就像一個翹翹板的概念,當RAS產生突變時,經常會大量開啟抑制細胞凋亡而促進細胞生長的機制,使細胞趨向細胞存活途徑 (圖二),造成細胞得以大量增生,異常性地不斷增生同時伴隨細胞內部調控機制失去控制後進而形成腫瘤[2],因此許多癌症的發生都與RAS突變有高度相關,如:黑色素瘤 (Melanoma)、大腸直腸癌 (Colorectal cancer)、肺癌 (Lung cancer)等。相關研究指出,將黑色素瘤 (Melanoma)細胞中誘導之HRASG12V基因突變清除 (Elimination)之後,會造成大量的細胞凋亡而使得腫瘤減小[3]。另一篇研究顯示,降低第二型肺泡細胞 (Type II pneumocytes) 內表達之KRASG12D,能夠促使肺癌細胞進行細胞凋亡同時減少肺部早期增生性病變 (Early proliferative lesions)[4]。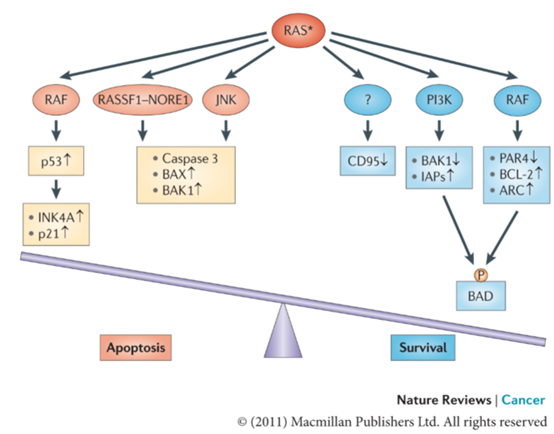 圖二、RAS突變造成細胞趨向細胞存活
隨著越來越多RAS下游相關的訊息傳遞路徑被科學家證實,針對臨床上癌症病患RAS突變的治療,也有許多相關研究致力於以RAS下游蛋白質作為標的,促使腫瘤細胞凋亡,但這些仍需要更多詳細的數據及實驗去證實。
Reference:
1.

I V Fedorenko

, G T Gibney and K S M Smalley.

NRAS

mutant melanoma: biological behavior and future strategies for therapeutic management.

Oncogene

2013; 32:

3009–3018

.
2.

Yuliya Pylayeva-Gupta

,

Elda Grabocka

and

Dafna Bar-Sagi

.

RAS oncogenes: Weaving a tumorigenic web.

 

Nature Reviews Cancer

2011; 11(11):761-74.
3. Chin L, et al. Essential role for oncogenic Ras in tumour maintenance. Nature. 1999; 400:468–472.
4. Fisher GH, et al. Induction and apoptotic regression of lung adenocarcinomas by regulation of a K-Ras transgene in the presence and absence of tumor suppressor genes. Genes Dev. 2001; 15:3249–3262.
Edited by Perfect叔叔